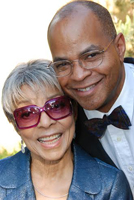 Actor, author, activist Ruby Dee took her final bow at home in New Rochelle, New York on June 11, 2014. Ms. Dee died of natural causes at the age of 91 while surrounded by her children and grandchildren. Her joyous life continues through the lives of her family and many friends. Ms. Dee was predeceased by her husband, Ossie Davis, in 2005.
"We were blessed to have been by her side during her transition. We let her know that we loved her, that we love each other, and that if she let go, we would be OK. We are honored by the rich legacy that she and our father left in our care. Our charge is to share the love and to remain worthy."
-Ruby and Ossie's Posse-
"The family had a private service for Ms. Dee. A public memorial service at a later date is in the works, details of which will be announced in the future," said family spokesperson, Terrie M. Williams.
With Ossie And Ruby: In This Life Together
Nominated for a 2006 Grammy
Guy's parents, Ruby Dee and Ossie Davis have been nominated for a Grammy in the "Best Spoken Word Album" for their audio version of With Ossie And Ruby: In This Life Together.
2004 Kennedy Center Awards
Guy can be seen below in this widely distributed wire service photograph, sitting behind the 2004 Kennedy Center Award nominees; music composer / conductor, John Williams, Dame Joan Sutherland, Opera Diva, actor / director Warren Beatty, singer Elton John, and Guy's parents, actors / activists Ruby Dee & Ossie Davis who were seated next to Laura Bush and President George W. Bush as the national anthem is sung.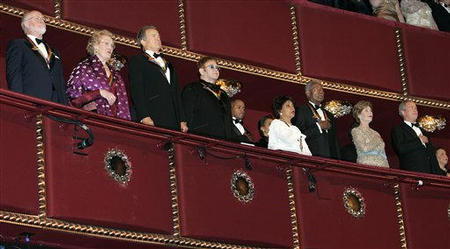 Have you seen other Guy Davis's out there?
We have uncovered a number of other Guy Davis's out there on the World Wide Web. Click here to see a list of the ones we have found and if you know of any others, drop us a line.
Tributes to Ossie
"[H]e reminded those who lost heart in the face of this turn of human events, let us not linger on what is lost, but let us dwell on what it is we must do. Let us do what we know how to do. Let us forge an unbreakable solidarity and blow the dust off the blueprints of our past victories. Let us reclaim our undistorted moral truth, and turn all of this into a world of peace."
- Harry Belafonte, "Eulogy for Ossie Davis," Riverside Church 2/13/05
NPR - Ossie Davis: An Appreciation - There are a number of recorded tributes to Ossie on this page. The speakers include such notable personalities as Harry Belafonte, Felicia Rashad, Spike Lee and Sidney Poitier.
Alan Waldman - Tribute to Ossie Davis - this is a wonderful condensed biography of Ossie.
Democracy Now! - Ossie Davis 1917-2005: A Tribute to the Actor and Civil Rights Activist.
PBS - For more than 14 years, the National Memorial Day Concert on PBS was graced by the eloquent, dignified and compassionate presence of Ossie Davis. This year's concert will honor the legacy of Mr. Davis's work on behalf of America's veterans with a special tribute led by Colin Powell.
William F. Devault - Ossie Davis, a remembrance of class - A recollection of a random encounter.
Voice of America - Ossie Davis Remembered for Commitment to Arts and Social Causes.
Howard University - A collection of links about the late great actor/activist.

My friend Martial by Ken Skaa

Thanks Ken!